April 27th, 2:00-4:00 pm - Lacey, WA. Meet me and other local romance writers at the the Timberland Regional Library, 500 College St, Lacey WA. 360/491-3860. We'll talk, do readings, & have a book signing. We'll have books for sale, but you are more than welcome to bring books you've already purchased for me to sign.
July 17, 5:30–7:30 p.m. - RWA's 2013 "Readers for Life" Literacy Autographing. I will be signing at this annual charity fundraiser with hundreds of other romance authors at the Atlanta, GA Marriott Marquis.
Oct 18-19, 2013 -- Featured speaker at NJ Romance Writers' Put Your Heart in a Book Conference. Details about the conference, including the public book fair, will be available at http://bit.ly/bWT6xx

Check back for blogs and on-line events.

Rom Con readers conference, Denver, Aug 2011
(*Photos Courtesy of HotDamnDesigns.com)
| | |
| --- | --- |
| RomCon 2011 | *Me and Cover Model Brooks |
| | |
| --- | --- |
| *RomCon Fashion Show - Me sitting in the crowd | *RomCon Fashion Show - Pink Polonaise |
RWA 2011, NYC
| | |
| --- | --- |
| My publisher's party, RWA 2011, NYC | With a fan, Literacy Signing, RWA 2011 |

With my sister & parents
at The Book Store in Frankfort, MI, Sept. 2010.


At Rose City Romance group signing
at Powell's Books in Oregon, Sept. 2010
Me Signing at the RWA Conference in Orlando, July 2010.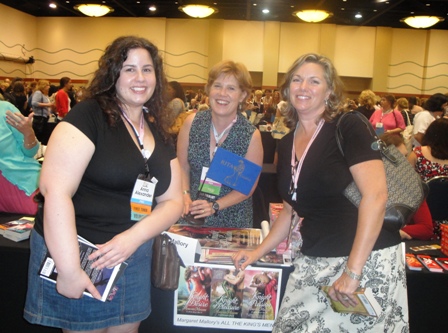 Book signing for Knight of Pleasure


Signing my new release, Knight of Pleasure

Book signing for Knight of Passion


Knight of Passion Book Signing
Michigan and Washington, D.C. book signings

At Schuler Books in Lansing, MI


At Benzie Shores Dst Library in Frankfort, MI


At the RWA National conference in D.C.
--in that same yellow dress!
Photos from My First Signing

Me, having a good time


...with my nieice, daughter, husband and son


...with RWA chapter friends


...with old neighbors