2010 Readers' Crown™ Finalist for Best 1st Book
2010 Golden Quill Finalist for Best 1st Book
2010 Beacon Contest - 1st Place, Historical

KNIGHT OF DESIRE
1st Book in All the King's Men Series
by Margaret Mallory

ISBN-10: 0446553395
ISBN-13: 978-0446553391
Publisher: Grand Central
Release date: July 2009
Available at:


His surcoat still bloody from battle, William FitzAlan comes to claim the strategic borderlands granted to him by the king. One last prize awaits him at the castle gates: the lovely Lady Catherine Rayburn.

Catherine risked everything to spy for the crown. Her reward? Her lands are declared forfeit and she is given this choice: marry FitzAlan or be taken to the Tower. Catherine agrees to give her handsome new husband her body, but she's keeping secrets and dares not give him her heart. As passion ignites and danger closes in, Catherine and William must learn to trust in each other to save their marriage, their land, and their very lives.

Catherine. Catherine was in his bed.
In three heartbeats, William went from dumbstruck to breathless. She was stunning, with her fair hair spilling over his pillow like a river of moonbeams.
"You have come to me," he said, not quite believing it.
She clutched the bedclothes to her chin and nodded.
Now that she was here, he could show her she had nothing to fear in his bed. He undressed quickly, dropping his clothes on the floor and lifted the bedcovers. Ignoring her sharp intake of breath, he slid in beside her.
"Turn toward me, I want to look into your face."
He held her eyes as he ran his hand up her side to the tantalizing swell of her breast. Gritting his teeth, he reminded himself to go slow. He moved his hand back to her waist, then over the curve of her hip and down her thigh.
He was tight as a bowstring. In a daze of desire, he kissed her face, her hair, her neck. Against her ear, he murmured, "I have dreamed of this."

Knight of Desire is a Barnes & Noble Heart to Heart Blog 2009 Fave Debut Romance.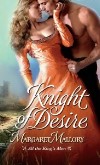 4 Stars!

— Romantic Times BOOKreview
"Set during the Welsh rebellion against the English, Mallory's debut is impressive. She breathes life into major historical characters...in a dramatic romance."
"The story sizzles with romance and adventure." —RomRevToday.com
"An impressive debut . . . Margaret Mallory is a star in the making."
—Mary Balogh, New York Times bestselling author of At Last Comes Love
"A wonderful new voice in the tradition of Gellis and Woodiwiss."
—Bertrice Small, New York Times bestselling author of The Shadow Queen
"A fast-paced tale of romance and intrigue that will sweep you along and have you rooting for William
and his fair Catherine to fight their way to love at last."
—Candace Camp, New York Times bestselling author of The Courtship Dance
"Few writers share Margaret Mallory's talent for bringing history to vivid, pulsing life."
—Virginia Henley, New York Times bestselling author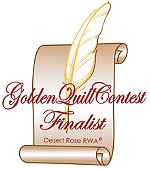 "A lavish historical romance, evocative and emotionally rich. KNIGHT OF DESIRE will transport you."
—Sophie Jordan, USA Today bestselling author of Sins of a Wicked Duke
"KNIGHT OF DESIRE is akin to stepping into another century;
Mallory has a grasp of history reminiscent of reading the great Roberta Gellis."
—Jackie Ivie, author of A Knight Well Spent
"Stunning! Margaret Mallory writes with a freshness that dazzles."
—Gerri Russell, author of Warrior's Lady
"Medieval romance has a refreshing new voice in Margaret Mallory!"
—Paula Quinn, author of A Highlander Never Surrenders
"Mallory spins a masterful tale, blending history and passion into a sensuous delight."
—Sue–Ellen Welfonder, USA Today bestselling author of Seducing a Scottish Bride
"Margaret Mallory writes with intense passion and beautiful, believable emotion." —Lucy Monroe, bestselling author of Annabelle's Courtship