Castles
I thought readers might enjoy exploring Caen Castle, the setting of parts of my second book, Knight of Pleasure.


Photo by: Wikipedia & Urban
This massive castle, which served as Henry V's headquarters for his "re-conquest" of Normandy, once belonged to his ancestor William the Conqueror. It was also in this castle that Richard the Lionheart gathered his knights before leaving on crusade. Here is a link to a wonderful site that was enormously valuable to me in writing scenes set in the castle. It has a virtual tour of the castle as well as historical diagrams and information. Chateau Caen.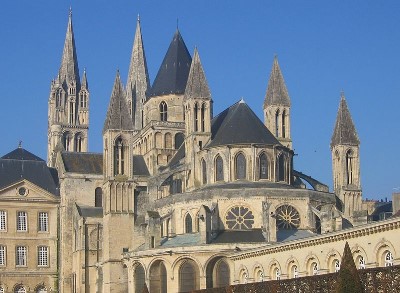 Photo by: Wikipedia & Urban
William the Conqueror built a men's and a women's abbey on either side of the town of Caen-to absolve him of the sin of marrying his cousin. (I really don't know why this was a sin.) My heroine's brother in Knight of Pleasure spends time with the monks at the men's abbey, the gorgeous Abbaye-aux-Hommes, above.
Why Medievals?
People often ask me how I happened to choose the early 1400's as the setting for my first book, Knight of Desire. What more exciting period could I find? I have a king who usurped the throne from his cousin, rebellions and traitorous plots everywhere, and one of England's greatest kings is a prince who is beginning to show the man he will become.
In truth, I love history and would be happy writing stories set in different times and places. What I particularly like about the medieval period–besides all the adventure and political intrigue–is that it lends itself so well to stories with themes of honor and loyalty. And then there are the knights, of course...
My son gets the credit for my interest in knights. He moved on, but I miss the days when he made me play with "swords" in the back yard and read tales of King Arthur countless times. What is fascinating to me is that versions of these same tales were very popular in the early 1400's. The chivalric ideals of the stories were the ideals of the time. That does not mean medieval knights actually behaved honorably-but they knew they should. :-)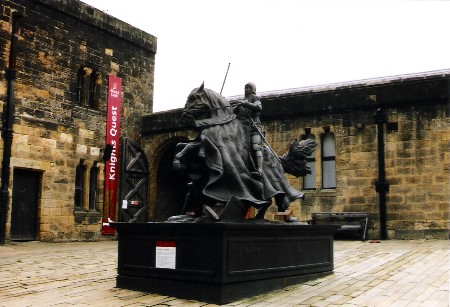 Statue of "Hotspur" Percy at Alnwick Castle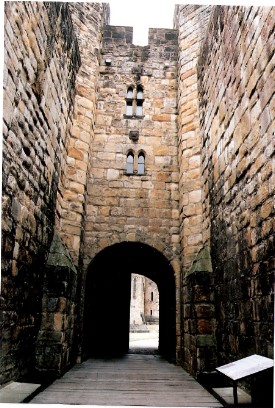 Alnwick Castle, Northumberland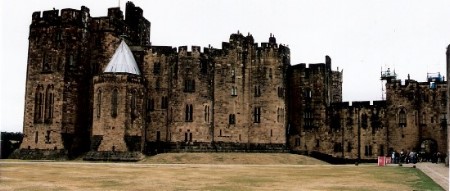 Alnwick Castle, Northumberland
Shortly after I finished my first draft of Knight of Desire, I was lucky enough to go on a family vacation to Great Britain. The best day of the trip for me was when we visited Alnwick Castle, because that was where I had my hero spend much of his youth. It is such an amazing castle that I decided to use it in a scene in Knight of Pleasure as well.
If seeing the castle was not thrilling enough, I came upon this statue of Henry "Hotspur" Percy (above) in a courtyard inside the castle. Hotspur is one of the real historical characters in Knight of Desire, and I modeled my hero's fierceness and courage as a fighter on Hotspur. I have to tell you, I was flat-out amazed that this statue of Hotspur looked so much like I had pictured my hero, William FitzAlan.